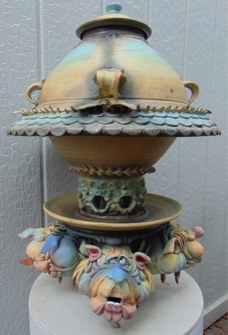 After providing housing for the birds, it seems appropriate to offer a quality feeding station for them as well.
I have had my feeder installed outside the kitchen window for the past 19 years and it is a constant pleasure to watch the birds crowd around the feeder to eat, especially in the spring when the young fledglings are being fed and taught how to fend for themselves. Throughout the year the feeder attracts a variety of birds depending on the particular season and migratory patterns.
These bird feeders are durable enough to feed the birds throughout all seasons, and they are excellent accents for your garden or yard.
The main body of the feeder rests on a base platter that is supported by four critter heads. Tabs with holes are attached under the chins to allow the insertion of perching twigs.
The top section of the feeder is most often glazed but the bottom characters can be either glazed or unglazed.
The entire feeder is assembled from three sections, including the lid; this allows for easy installation and cleaning.
Measuring approximately 18"-20" in diameter and approximately 26" -28" tall, it is made to fit over a standard 4" x 4" fence post.
Each bird feeder is made individually, one at a time, and a variety of "critter" types can be used.
Bird Feeders are priced as follows:
Feeder....................$585 each
packing..................$60 (shipped in two boxes)
shipping charges are UPS charges
You can choose the type of "critters" you want on your feeder.
Below are some examples of Bird Feeders I have made.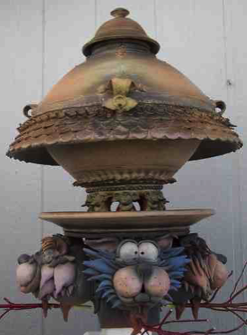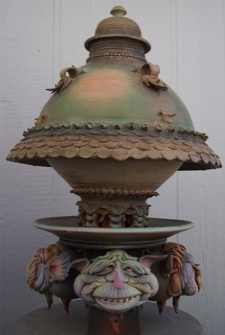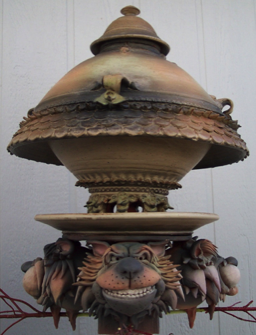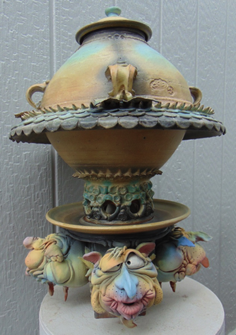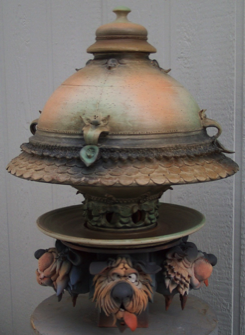 19WBBF 02,
glazed top
unglazedbottom
19WBBF 01,
glazed top
unglazedbottom
19WBBF 03,
glazed top
unglazedbottom
19WBBF 04,
glazed top
unglazedbottom
19WBBF 05,
glazed top
unglazedbottom
19WBBF 06,
glazed top
unglazedbottom
19WBBF 07,
glazed top
unglazedbottom